Research and reflection on teaching and learning in speech-language and audiology. TLCSD is a peer-reviewed, open-access journal, not-for-profit journal. There are never any charges to authors. TLCSD is an open access journal that provides content that is available to the public without cost.
See our Author Resources for information on submitting.
See the Aims and Scope for an overview of journal content and specific submission categories.
Current Issue: Volume 4, Issue 1 (2020)
New Investigations
Pilot Studies
Student Voices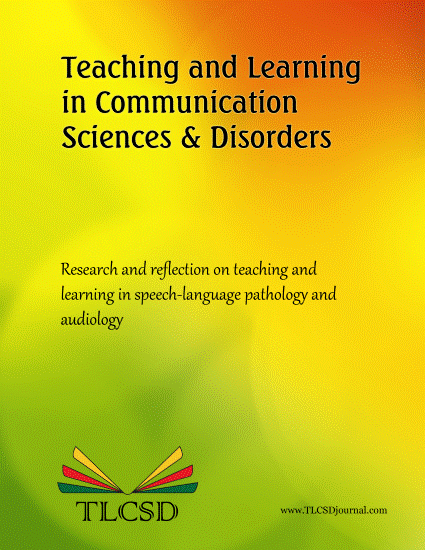 Sarah M. Ginsberg, Editor,
Eastern Michigan University, sarah@tlcsdjournal.com
Jennifer C. Friberg, Associate Editor,
Illinois State University, jen@tlcsdjournalcom
Colleen F. Visconti, Advisory Editor,
Baldwin Wallace University, colleen@tlcsdjournal.com
Patrick Walden, Editor-at-Large,
St. John's University, patrick@tlcsdjournal.com
Jerry K. Hoepner, Editor-at-Large,
University of Wisconsin-Eau Claire, jerry@tlcsdjournal.com
Mark DeRuiter,
Business Advisor to the Editorial Board,
University of Arizona, mark@tlcsdjournal.com
Mardee Kohlmann, Manager,
Pediatric Therapy Associates, manager@tlcsdjournal.com